Did you know the average recruiter or hiring manager spends around 6 seconds scanning a resume before they make the initial 'good fit' or 'not a fit' decision?
And how about the fact that every corporate job ad attracts an average of 250 resumes, of which only 4 to 6 will get called for an interview, for one to get the job?
And with the increase in talented people searching for roles as entire industries are decimated by COVID-19, there is more competition for great positions than ever before.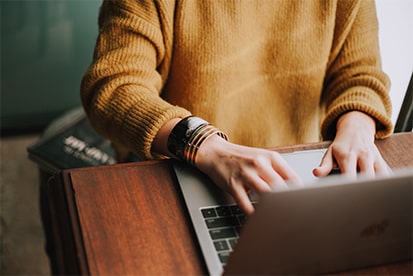 Needless to say, a good resume is not enough. There are plenty of good resumes out there (and there are lots of bad ones too, trust us). But it is the awesome resumes that get the callbacks. It is the people who invest in a CV that ticks all the boxes that recruiters and hiring managers are looking for who get to the next stage.
By using the RecruitableHub Resume Writer, you will get an awesome resume and are giving yourself the best chance possible of securing an interview for every role you apply for.
What's so good about RecruitableHub resumes?
We're glad you asked!
You will receive:
A professionally designed, proven to impress layout.
The RecruitableHub Resume Writer has been designed to ensure you pass the 6 second test by organising your information into a professionally formatted, easily skimmable document that makes it easy to locate your most important information.
All essential information included in a logical order.
We ensure that you incorporate all of the information a recruiter or hiring manager will need to make a decision in the order they need to read it.
A document that highlights your achievements, skills and talents.
Using our Resume Writer ensures you will confirm your ability to make a positive impact on the business you are applying to work with. We make sure that you highlight what you will bring to the table, which will make you so much more attractive when being compared to candidates who just list where they have worked and what they have studied.
A resume that makes a recruiter or hiring manager want to find out more.
A
 

resume

 

that makes a recruiter or hiring manager want to find out more.

You will save a heap of time and money – we are about a quarter of the price of having someone to write it for you
You can create your own professional resume using our tool in 15 – 20 minutes
You can download your resume in PDF immediately
You can safely store all of your resume and cover letter drafts in your personal dashboard and return to edit them or change templates whenever you need to
You can be certain that the essential information will be included
Your achievements and skills will be illuminated so there is no question of your value
You can upgrade and get a matching cover letter and access to the RecruitableHub Cover Letter Writer
You are guaranteed to stand out
We have a proven track record of getting people interviews and jobs, by ensuring candidates have an
impressive

and

impactful

resume.
"After almost 20 years in the same role with the same company, I had no idea where to start writing a resume when I was made redundant due to COVID-19. The ResumeWriter saved me and I now have a resume that I absolutely love. It looks amazing and really highlights my talents and experience. I feel so much more confident job hunting with such a professional CV."
"By accessing and using the resume writer it proved to be the catalyst to refine and shine my career history. The difference it made to my resume and the format of the document was day and night. However, more importantly, the confidence I gained, along with the clarity of thinking, kick-started my recruitment journey, on the best possible footing."
"The first job I applied for, I got an interview for, then another, then another and all of a sudden I had choices and felt in control again. I was offered several different positions and was literally knocking back roles."
"I got an interview for the first job I applied for, quickly followed by a job offer."
"I love the document. It has captured my skills and experience perfectly."
"I got the first job I applied for using my new resume."
The
RecruitableHub

Resume Writer will guide you through the process in three simple steps:

Choose your template
Pick from our collection of more than 20 professionally designed templates to get started. If you decide you don't love it part-way, you can simply choose another template or change the colour without having to start again.

Input your information
Save time by using our pre-written bullet points, write and edit your own text, or use a mixture of both. You can access professionally pre-written examples and will be guided by our expert tips at every step.

Download
As soon as you are finished with your masterpiece, you can download it in MS Word and/or PDF instantly.
It could not be easier to use our products and services (or better value).
It is risk free! We want you to try before you buy, and have a free option you can start with and then upgrade at any time during the process if you choose to.
$ 29.00 AUD
(GST Included)
One-off payment of $29
Unlimited resumes and downloads
Access to the resume writer for 30 days
ATS friendly templates
No subscription to cancel
No hidden payments
Lifetime access to your dashboard
Choose your colour preference.
Fill-in-the-blanks to include all relevant information.
Access pre-written text examples to copy and edit.
Save drafts and completed resumes in your personal dashboard.
Dramatically increase your chances of snagging an interview.